Your Mom Probably Hated the Sound of You Playing the Recorder
Sorry, but it's true.
Welcome back to *Cash Register Alert*, a '90s and '00s newsletter named after the greatest sound on AIM. We're going to talk about a particularly memorable elementary school music unit today, but first, a quick note. Election Day is on the horizon (anyone else remember doing the "pretend" elections in school growing up? Good times, we'll save that for another newsletter). Anyway: I usually start off this preamble by asking folks to subscribe, but today in lieu of doing anything to boost this newsletter, please consider using the following link to check your voter registration. And, if you haven't already and you are able to, please register to vote. It takes 2 minutes!
~*You can check your registration status, register to vote, learn about your state's guidelines for mail-in voting, along with any pertinent deadlines at VOTE.ORG. You can also confirm your polling place if you plan on voting in-person, volunteer to become a poll worker, and get election reminders if you need that sort of thing. LET'S DO THIS!*~
No matter how you're feeling today, you should register to vote. 🗳  
@stuffmadebybec
And now, onto why your mom deffffff hated your recorder playing.
---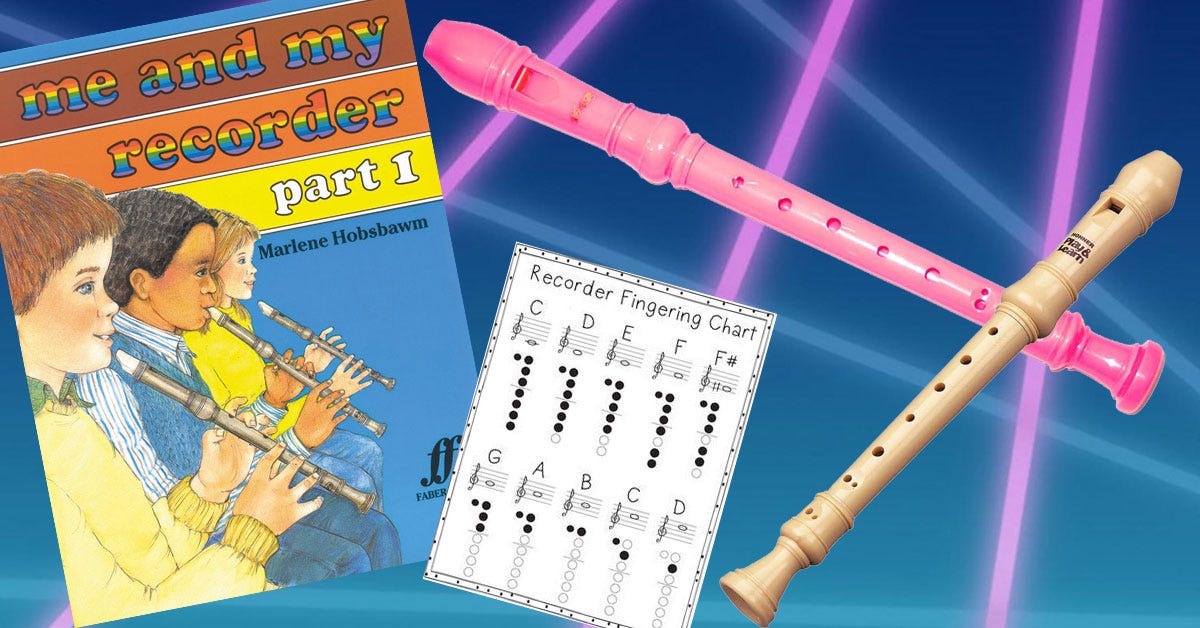 The elementary school recorder unit was a musical rite of passage. Much like the hallmarks of later grades — animal dissection in biology class (in retrospect, disgusting), carrying around the fake baby for health class (in retrospect, why?) — the recorder unit marked a semblance of responsibility, as we were trusted with bringing something home from school and back again. It was also the very first instrument many of us learned to play. Before going on to select a "real" instrument in 4th or 5th grade (a monumental decision beginning with band or orchestra?) we learned the appropriate fingerings to create the soulful sounds of "Hot Cross Buns" and "Mary Had a Little Lamb." 
Looking back, the unit itself couldn't have lasted for more than a few weeks, but it's also possible we played those things throughout the entire school year — because, at least in my school, we broke those bad boys out during concerts too. If one kid playing the recorder is mildly irritating, just imagine dozens of them lined up on risers, absolutely not playing the same notes, and certainly not in the same rhythm. ...Delightful?
And yet, many of our parents showered us with praise after those concerts (I remember getting flowers at mine). Could it have been that they were just consumed by relief that the recorder playing was over? That they were just high and giddy over the fact that they wouldn't have to listen to "Hot Cross Buns" for one more f*cking second?
OK mom, no more lies. What did you really think?
Looking back on my own experience with the recorder, and now as a mom myself, I began wondering: What did our parental figures really think of that hunk of plastic masquerading as a musical instrument? Because, let's be real, most "practicing" that went on at home wasn't close to anything resembling a song — it was more about making the loudest sound humanly possible. And if you had a sibling who was also practicing their take-home recorder, a competition over who could be the most annoying was, well, inevitable.
To uncover the facts that have been hidden for decades, I decided to turn to my own mom for answers — and I asked some of my friends to do the same. At first, my mom didn't want to admit it — "I loved all the instruments you played!!!!!" (lies, all lies) — but the truth eventually came out.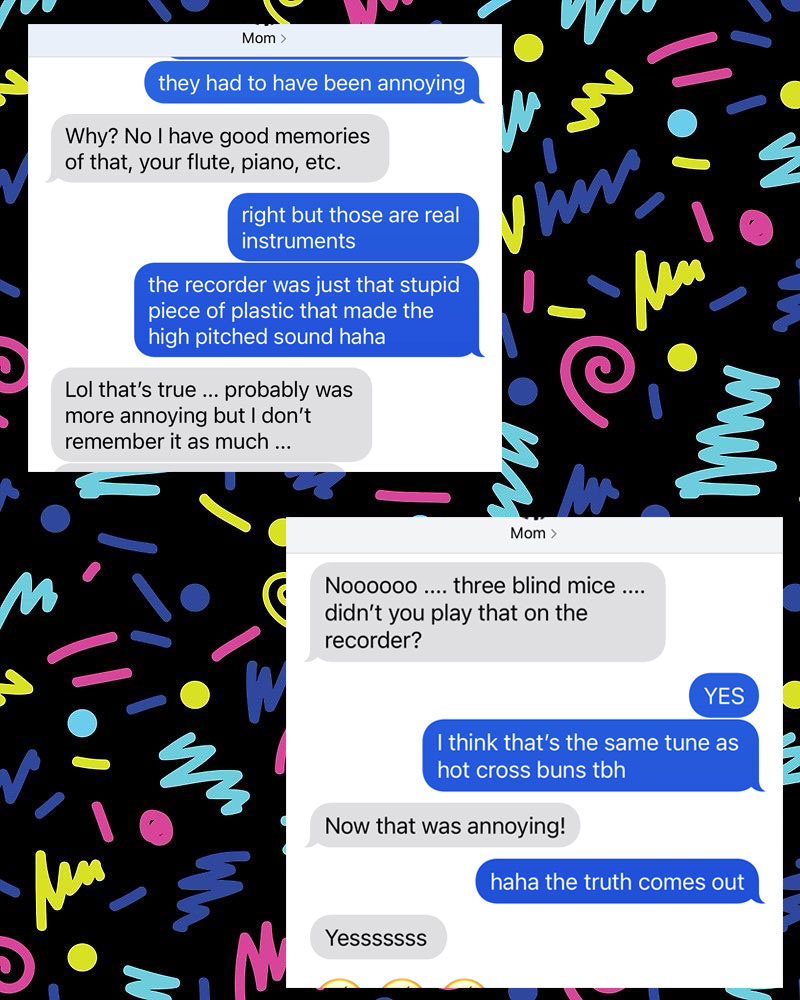 It turns out, other moms and dads (and grandmas!) have similar repressed emotions. Here are some of the replies my friends received from their parental figures when they asked what they truly thought of their elementary school era recorders: 
"One of the most annoying sounds I've ever heard in my lifetime." —Patricia, 56
"All of us hated those damn recorders. I remember talking about this at one of those luncheons with Jackie. I think it was even brought up at a PTA meeting once." —Carol, 58
"Not pleasant, I'll leave it at that." —Doug, 66
"It wasn't that bad! Well maybe on occasion it was bad." —Rita, 85
"I don't really remember. Maybe I blocked it out? Hahahahaha." —Pam, 62
"To be honest, I thought about throwing it away and telling you I couldn't find it. I didn't do that though!!! But I wanted to." —MaryAnne, 64
---
As a mom who has, on more than one occasion, thought about throwing away an annoying toy and saying "Whoops where did it go?" I deeply relate to that last one, MaryAnne. You're in good company. Also, honorable mention to Carol and Jackie, the real MVPs of the PTA — I bet other moms saluted you.
Anyway, there you have it folks. Recorders may have been fun for us, but our parents had a different POV. Sorry moms and dads of the world!
But truthfully, we should probably apologize to our music teachers too. Maybe even moreso.
Imagine trying to conduct a classroom full of squiggly kids, getting them to play "Hot Cross Buns" in tune, let alone all at the same time? They probably had it worse than all of our parents combined. If one kid with one recorder made our parents go internally berserk, it stands to reason that dozens of them were nails-on-the-chalkboard terrible. How did our music teachers stand it? Perhaps this investigation needs a Part Two...but in the meantime, if you're able to track down your former music educator, consider sending them a Starbucks card...or two...or f*ck it, maybe buy them an entire coffee machine (or a vat of wine). Cause they really, really deserve it.