You Don't Just Eat, You Dunkaroos!
A '90s lunch box essentials guest post.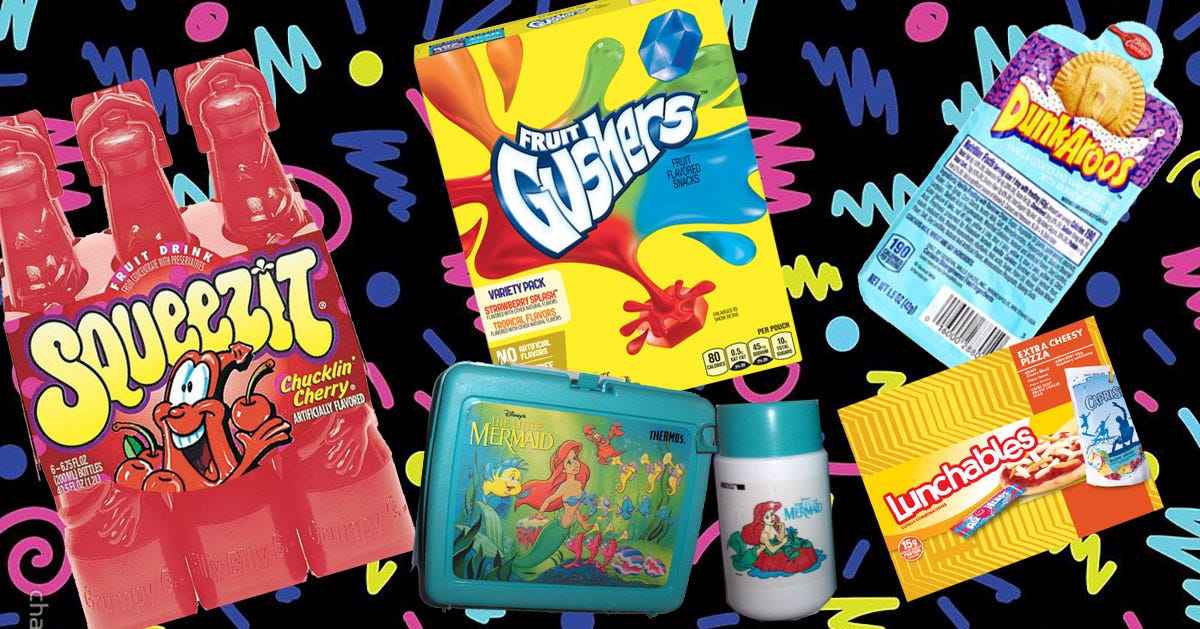 Welcome back to *Cash Register Alert*, a '90s and '00s newsletter named after the greatest sound on AIM. Today, I am as excited as Jessie Spano to present a guest post by Kate Kole, who is going to take us down the nostalgia rabbit hole directly to your elementary school lunch box. Kate is a writer, yoga instructor with a YouTube channel called Yogata Girls, and of course, a '90s aficionado (growing up, she was even mistaken for an Olsen twin — more than once ). So grab your Little Mermaid lunch box and matching thermos, we're hitting the cafeteria, stat. And if you haven't subscribed yet (it's free!) please do so below. 
If just hearing the word WarHeads makes your mouth water, you still know all the words to every Spice Girls song (not to mention which Spice Girl you were), and BMW makes you think of Cory and Topanga before the car, then, like me, you're totally a '90s kid. Meaning you'll also remember the monthly calendar menu that got sent home from elementary school, its squares signaling corn dog day, foot long hot dog day, and the best day of all, pizza day.
But if we're being real, I often brought my lunch to school — a lunch that was basic before basic was cool. Crinkled brown bag, PB&J, a handful of crushed up Doritos, and whatever peach/pear/mixed fruit cup was on sale at the grocery store that week. Meaning, it was essential that I found a seat next to someone who's lunch packed some star power. Maybe I could trade them a Pog for some Oreos? A girl can dream.
Without further adieu, here are the treats, drinks, and snacks that made your lunch the lunch in 1996.
Dunkaroos 
Yes, these are technically a dessert, so they should probably be listed last. But anyone who ever had Dunkaroos grace their fancy Lion King lunchbox knows that these are the sprinkled frosting goodness that 'it kids' of the cafeteria ate first. If only one item was to be had while forming secret clubs and between rounds of MASH, this one reigned supreme. (Psst, did you know they're BACK? You're welcome.)
Honorable mentions: Oatmeal Creme Pies, Zebra Cakes, and Cosmic Brownies. Basically anything that a little lady we know and love by the name of Miss Debbie cared to put on the shelves.
SqueezIt
You had to have something to wash down your bedazzled vanilla cookies, of course. So why not pure sugar in the form of "juice?" Bonus points that you could also chew on the plastic afterwards. Because that's not gross or anything.
Honorable mentions: Capri Sun, Hi-C, Sunny D, and, if your mom was one of those health conscious, "sugar is the devil" '90s moms, Juicy Juice.
Gushers
Now introducing the fruit snacks with a little extra somethin' somethin' inside. And by somethin' somethin', I mean artificially dyed corn syrup. Gushers were the premiere gummy treat. You could eat them one by one, or let them warm up a bit and band together, forming one mega bite of deliciousness.
Honorable mentions: Shark Bites Fruit Snacks, Fruit by the Foot, and its slightly less attractive sister, Fruit Rollups.
Lunchables
These were solely reserved as "field trip" food in my household, so if you had them as your everyday lunch, I bow to the ground you walk on. The crackers, deli meat, and cheese were enough to prompt my envy. Don't even get me started on the "Build Your Own Pizza" packs. I imagine you're the ones running the world now?
Honorable mentions: Pop Tarts, for those days that you walked out of the house and realized that no lunch had been assembled. Thank you, Kellogg's, for covering all the bases with your Strawberry and Brown Sugar & Cinnamon variety packs.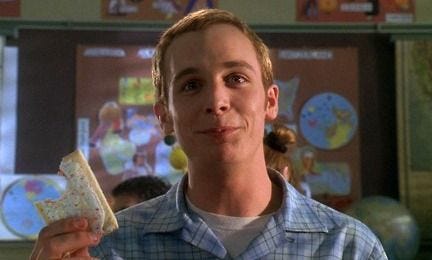 Apologies to our elementary school teachers for the hours of 1 to 3 pm where we basically morphed into a collective sugar high followed by a zombie-like trance. We loved you then — and we love you even more in retrospect.
---
If you enjoyed this trip down memory lane straight to your childhood bedroom, subscribe to this newsletter below!
And be sure to tell your friends! The more the merrier…it's like a sleepover. XoXo