The 2020 Tamagotchi Diaries: Part 2
*Extremely Chris Harrison voice* With the most dramatic conclusion ever.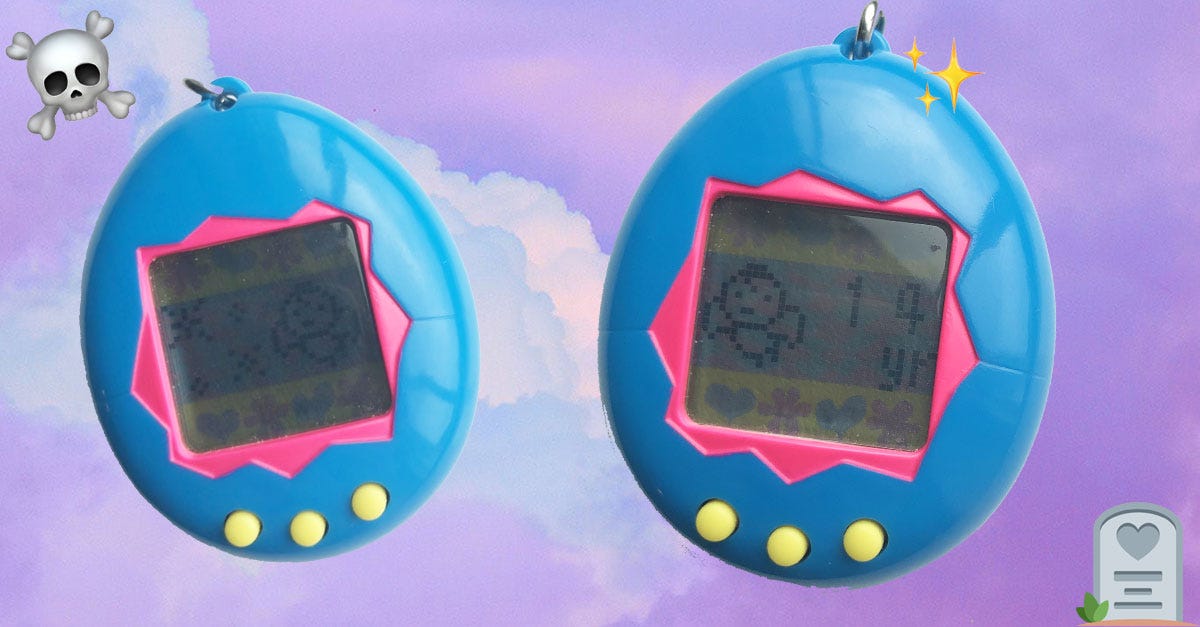 Welcome back to *Cash Register Alert*, the newsletter about all things '90s and '00s nostalgia, named after the best sound on AOL Instant Messenger. Today, we are resuming Part 2 (and the dramatic conclusion) of my Tamagotchi Diary — and get ready, cause it's a pretty wild trip. If you haven't yet subscribed (it's free!), hit the button below so you don't miss a single trip down the '90s and '00s rabbit hole.
I'm not sure what I expected when I decided to take care of a Tamagotchi in this hellish year known as 2020. Maybe a part of me hoped it would feel so much like the '90s again that I'd somehow teleport back a few decades — and IDK, just stay there? Maybe I just thought it would be a fun distraction. Maybe it was all for this newsletter. Maybe a combination of the above! 
Regardless of my expectations, there are a few things I just did not remember from our elementary school digital pet caretaking days: Tamagotchi is straight-up annoying. Tamagotchi is needy. Tamagotchi will beep at you all day long, sort of like a human toddler, but without any of the fun benefits like having a snuggle partner or someone whose PB&J crusts you can eat.
The first three days of my Tamagotchi experience (documented here in Part One) were undoubtedly the most exciting. When we left off, Tamagotchi had just evolved into its "adolescent" form, looking sort of like a tooth with little arms. (Or, as my 3-year-old decided, a ghost.) From here, I'm going to group the rest of Tamagotchi's journey a few days at a time — trust me, an individual day-by-day recount would put you to sleep faster than you can say "home planet."
Day 4 - 7: I'm just a teenage dirtbag, baby.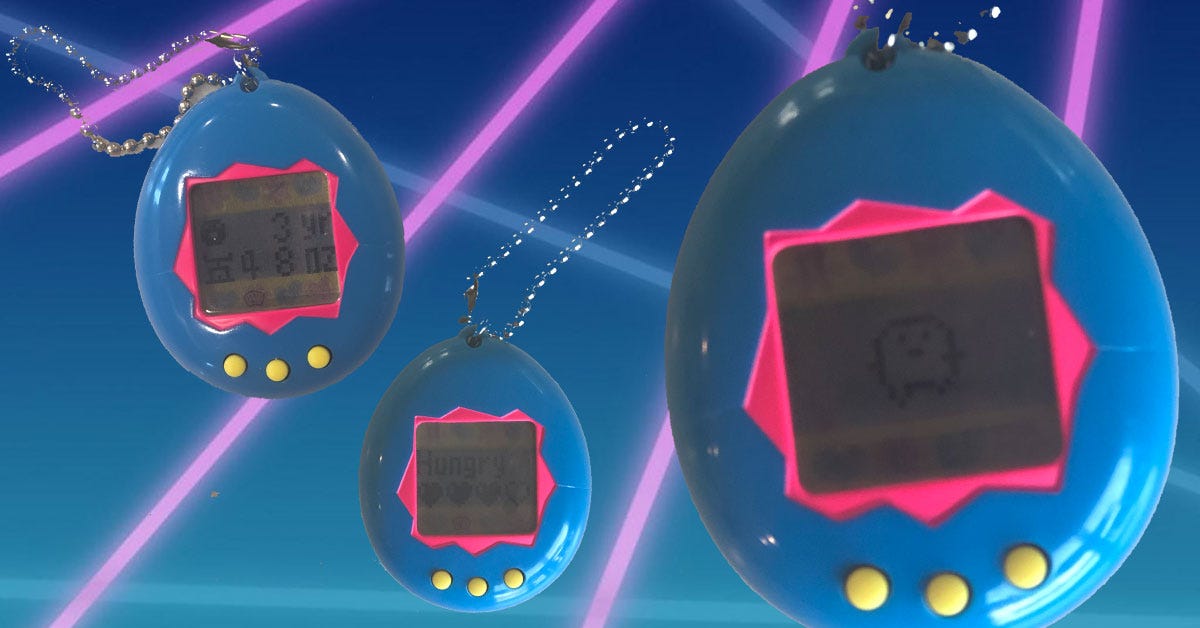 TBH, this is probably the best part of Tamagotchi's life cycle. It gets hungry at just a few points throughout the day, remains mostly happy, and only gets sick a couple of times. 
Because my 3-year-old accidentally set Tamagotchi's clock two hours ahead, it continues to go to sleep "early" every night. Given that I am also an early bird myself, I am incredibly happy with this turn of events.
Towards the end of the week, I start to wonder if Tamagotchi is going to remain a teen forever. Can a digital pet get Peter Pan syndrome? I try to remember if any of my Tamagotchis as a kid ever made it to the "adult" stage. Maybe caring for a real-life human actually made me a better Tamagotchi owner too. Who knew!!
Day 8: What...what is that?!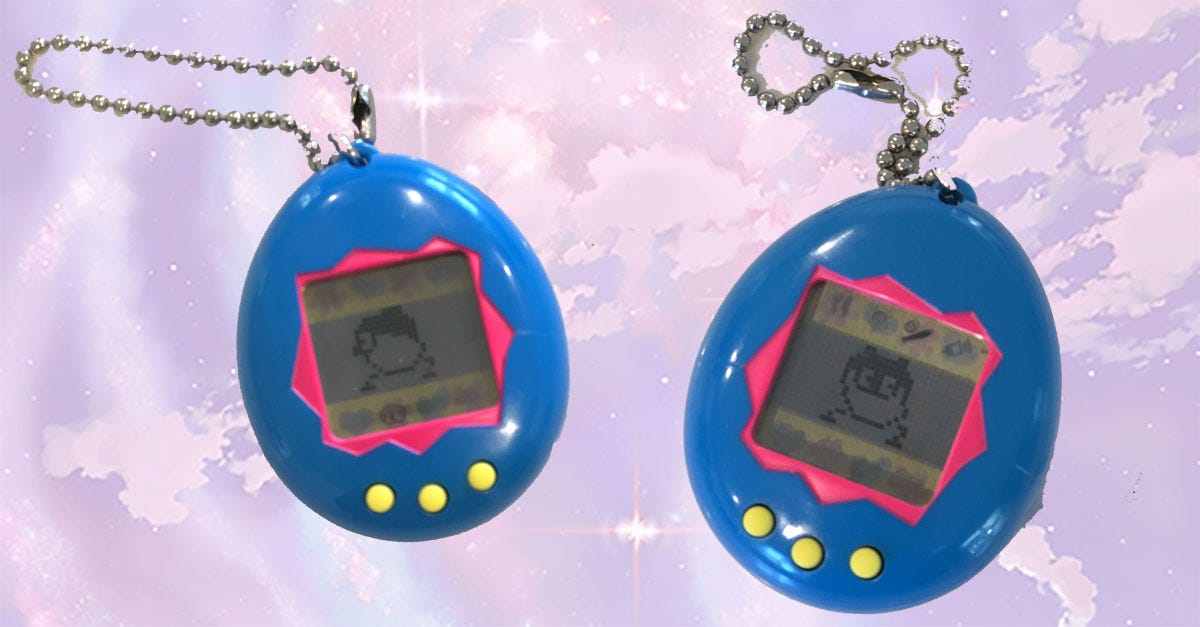 Around 12pm, Tamagotchi's screen starts flashing and beeping, meaning one thing and one thing only: Evoluuuutttiiiioooon!
I am convinced that Tamagotchi will morph into the cutest critter possible (you know, the one that kind of looks like a Pikachu). After all, I've been taking impeccable care of it, even when it poops more times throughout the day than an actual baby.
To my surprise (confusion? horror?), Tamagotchi does not turn into the Pokémon-esque adult iteration. Instead, it transforms into a bigger blob with squiggly chicken legs, dark ears, googly eyes, and...is that a mask? Well, at least it's prepared for pandemic times. 
A quick Google search tells me that this adult character's name is Maskutchi (MASKutchi, a-ha it is a mask!) and it lacks discipline. Great. The Tamagotchi Wiki describes it as: "Maskutchi likes to learn, but it can be cranky and a little mean at times. It has the unnerving habit of staring at you from dark corners." Well that certainly doesn't sound terrifying or anything.
As odd-looking as it is, I'm determined to see this through. We're in this together now, Maskutchi. 
Day 9 - 13: Hey, uh, what time is your spaceship leaving again? 
At first, Maskutchi isn't so bad. It goes to sleep late — at 11pm (AKA 9pm thanks to the 3-year-old) and wakes up at 11am (or 9am on toddler time). 
But as the internet warned me, it lacks discipline, so it often beeps at me when it doesn't need anything, or refuses to eat even though it's hungry. After using the "discipline" button a few times, it starts to become better behaved, and we eventually get into a groove where it wants to eat and play at set times throughout the day. 
However, towards the end of the week, things start to go south. Maskutchi beeps all the time; it's hungry mere minutes after eating several muffin meals. What gives?! I start wondering if it's ever going to return to its home planet, or if it has decided Earth is so rad that it wants to stay forever. Maybe I should tell it about climate change. Or the election. Hey Maskutchi, would you like to watch CNN for a few minutes?
Day 14: Departure :-(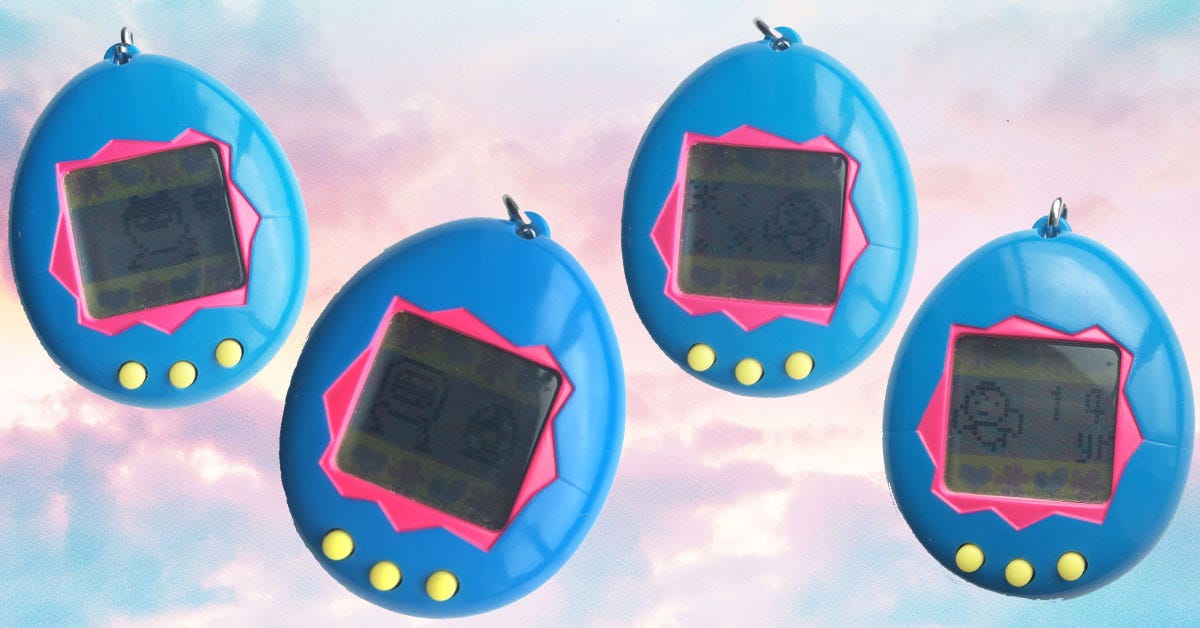 On day 14 — a full two weeks after its initial hatching — Maskutchi says its final goodbyes. 
The device starts beeping and it sounds…different. Instead of its usual cheerful sound, this is a loud continuous noise, almost like an alarm clock. Then a skull & crossbones icon appears next to Maskutchi, but none of the buttons are working. Immediately I know what's happening: Tamagotchi is preparing to leave this world, for good. It has had enough. TBH, I do not blame it.
After a minute or so, an egg appears on the screen, much like the egg Tamagotchi initially hatched from. Ummm, hey, is it weird that I'm kind of sad about this? It's so dramatic. I feel like "Viva Forever" should be playing, there should be some candles, hold on, it's all happening too fast!!!
Then, a little image of baby Tamagotchi appears, this time with wings. The screen reads "14 years," and a few stars twinkle in the background. It's the ciiiircle of liiiiife.
Before I can belt out any award-winning renditions of The Lion King soundtrack, Tamagotchi/Maskutchi is gone. Dead? Back to its home planet? An alternate dimension à la Poltergeist? Unsure. Regardless, I have very little time to ponder the existential meaning of a Tamagotchi life cycle because I fail to remember one very crucial thing. Thinking I can power it down and throw it in a drawer, I press a button on the back of the device and….
...A NEW EGG IMMEDIATELY APPEARS!!!!!  
Naturally I can't bring myself to willfully neglect it. What if it needs me? What if it is sad? Or hungry? Or or or?
I did not have "chained to a Tamagotchi" on my 2020 bingo card but here we are. Now if you'll excuse me, baby Tamagotchi needs a muffin.
---
If you enjoyed this trip down memory lane straight to your childhood bedroom, subscribe to this newsletter below!
And be sure to tell your friends! The more the merrier…it's like a sleepover. XoXo
Lastly, for more '90s ~content~ come follow me on Twitter!