Taking Care of a Tamagotchi in 2020: Part 1
Because what else are you going to do after five months of quar?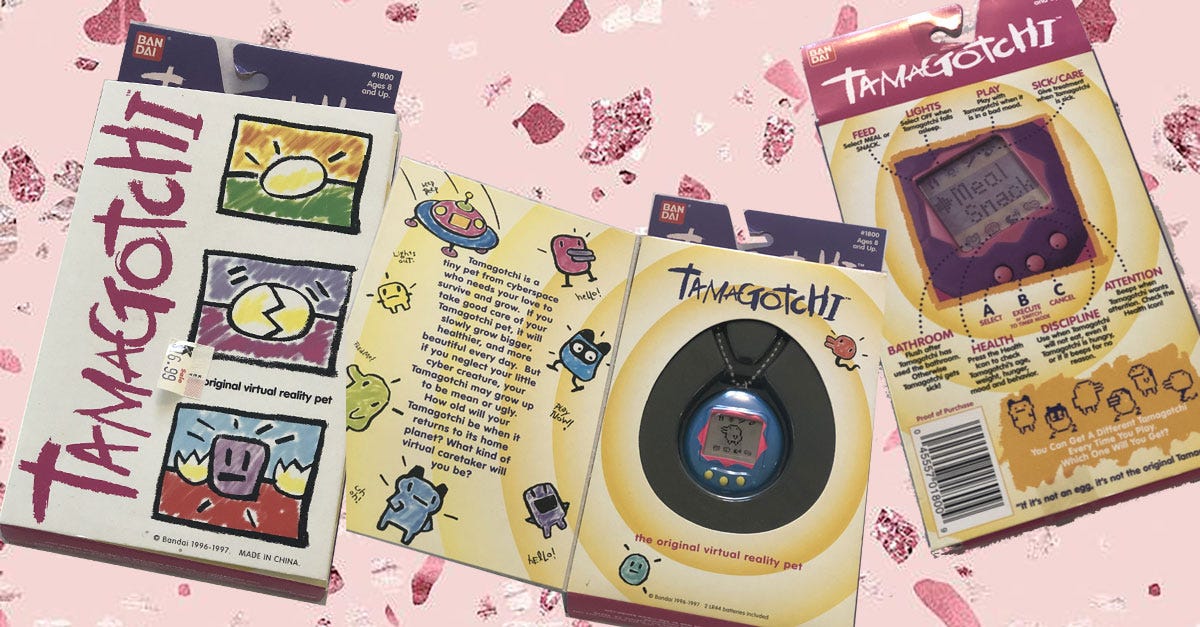 Welcome back to *Cash Register Alert*, the newsletter about all things '90s and '00s nostalgia, named after the best sound on AOL Instant Messenger. Today, we're dialing it back to many of our very first pets — and I'm not talking about a dog or cat, but rather, the infamous Tamagotchi, because I'm currently trying to keep one alive in this hellish year of 2020. Hold onto your JNCOs, it's about to get real nostalgic up here. And if you haven't yet subscribed (it's free!), hit the button below so you don't miss a single trip down the '90s and '00s rabbit hole.
Like other '90s kids, I was a proud Tamagotchi owner in elementary school. I wore my egg-shaped digital pet on a necklace, tucked into my shirt or overall pockets, and took it everywhere — school, camp, errands with my mom, you name it. Tamagotchi required around-the-clock care, just like any real pet, so it was important to have it with me at all times in case it was hungry or needed playtime. Or, yes, if it pooped.
Tamagotchi pretty much exploded onto the toy scene in 1997, and it soon became one of the most popular trends of the decade. (By 2010, over 76 million of those little eggs had been sold worldwide, and there's been many iterations and spinoffs since its initial launch, including video games.) There were other digital pets of course — where are my former Nano Pet or Giga Pet owners at? — but nothing could really compare with the original. 
In retrospect, I feel like all of us should apologize to our teachers because it must have been so annoying to teach a class full of kids whose Tamagotchis were beeping at the same time. I distinctly remember a teacher of mine implementing a "no Tamagotchi" policy, but many of us sneakily fed ours under the desk or in the bathroom during school hours anyway. After all, if you neglected it for too long, it would die...or return to its home planet, deeming Earth — and your pet-owner skills — too terrible to bear. (TBQH, I wish it would take me with it now; moving to outer space doesn't seem too bad at this moment.)
But this isn't your ordinary trip down memory lane. When a family member found out that I was launching this newsletter, she revealed to me that she still has an original Tamagotchi and asked if I wanted it. Um, hell yes I do!! 
So here we are, folks. Caring for an actual Tamagotchi in this hellscape known as 2020. Oh, and yes, on top of caring for an actual 3-year-old human too. And I'm taking you all with me. Buckle up!
Day 1: How many times is this thing gonna poop?!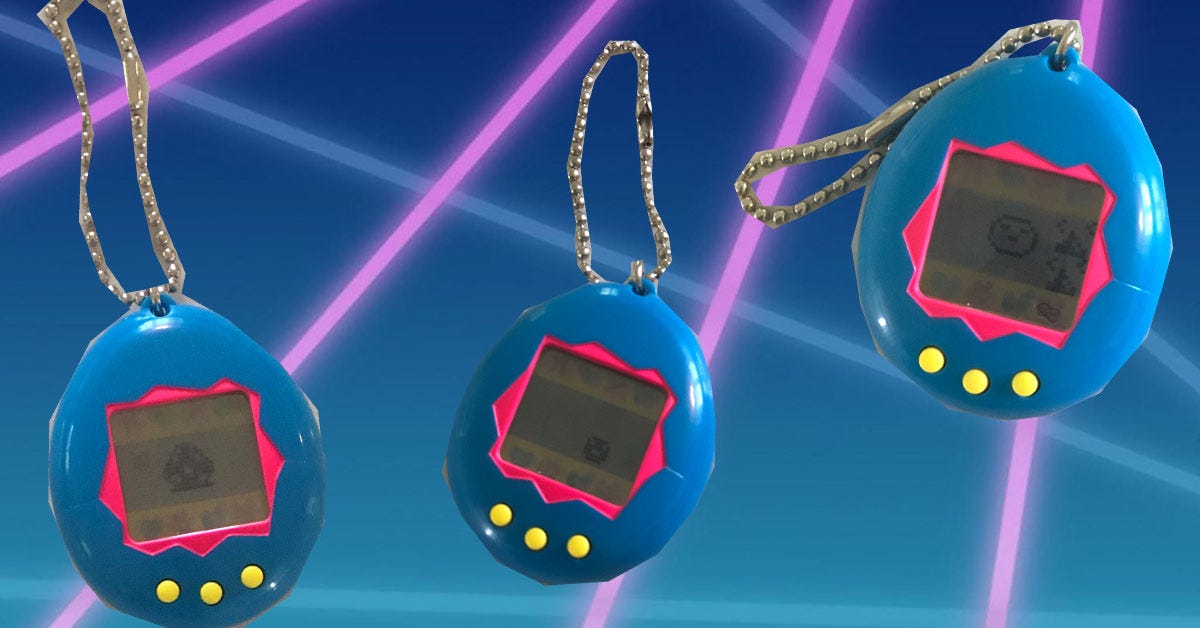 9:00 am
I awaken Tamagotchi by hitting the reset button on the back of the egg (it's one of those buttons deep inside the toy, I used an earring to get at it). The egg bounces for 5 minutes before hatching. During this time, my 3-year-old asks me "Is the pet awake?" no less than three dozen times. 
9:05 am
Tamagotchi hatches into a little blob. It is hungry and wants to play. We feed it several meals (muffin-like things) and snacks (which look like candy wrappers). I've forgotten how annoying the "game" is. You basically have to guess which way Tamagotchi is going to turn, and if you guess wrong, it gets extremely angry. To be fair, I get it. I, too, am easily annoyed when someone doesn't automatically read my mind and know what I want/need in that present moment. Anyway, I guess wrong almost every time, and Tamagotchi is not happy with me. 
10:00 am
3-year-old and I leave Tamagotchi in the kitchen when we go outside to play. When we come back in, Tamagotchi has pooped twice — and it's sick. FFS! This thing has been alive for like, a hot minute, and it's probably already Googling flights back to its home planet. I press the "duck" button to flush Tamagotchi's poops, and then give it some medicine, which — surprise! — makes it even angrier. I'm convinced it's going to die today and I'll have to explain to a 3-year-old what death is.
11:00 am
Tamagotchi evolves into a bigger, lighter-colored blob. It is hungry again, so it gets some more meals and snacks. This repeats throughout the rest of the morning. 
11:30 am
Tamagotchi poops again. 
12:30 pm
And again.
1:00 pm
AND AGAIN jfc.
1:30 pm
Tamagotchi beeps for my attention, but its hunger and happiness meters are full. According to the instructions (and the dusty corners of my '90s memory), I'm supposed to "discipline" it when it whines for no reason — there's even a discipline button to yell at it. Not going to lie, this feels mean and I don't like it! :(
4:00 pm
3-year-old wakes up from her nap and says "Let's check on the pet." Sure enough, Tamagotchi is hungry and wants to play. I hand it to her, and she's way better at the guessing game than I am. 
8:00 pm
Tamagotchi goes to sleep and beeps for me to turn off its light. Zzzz.
Day 2: Eat/play/you-know-what, repeat.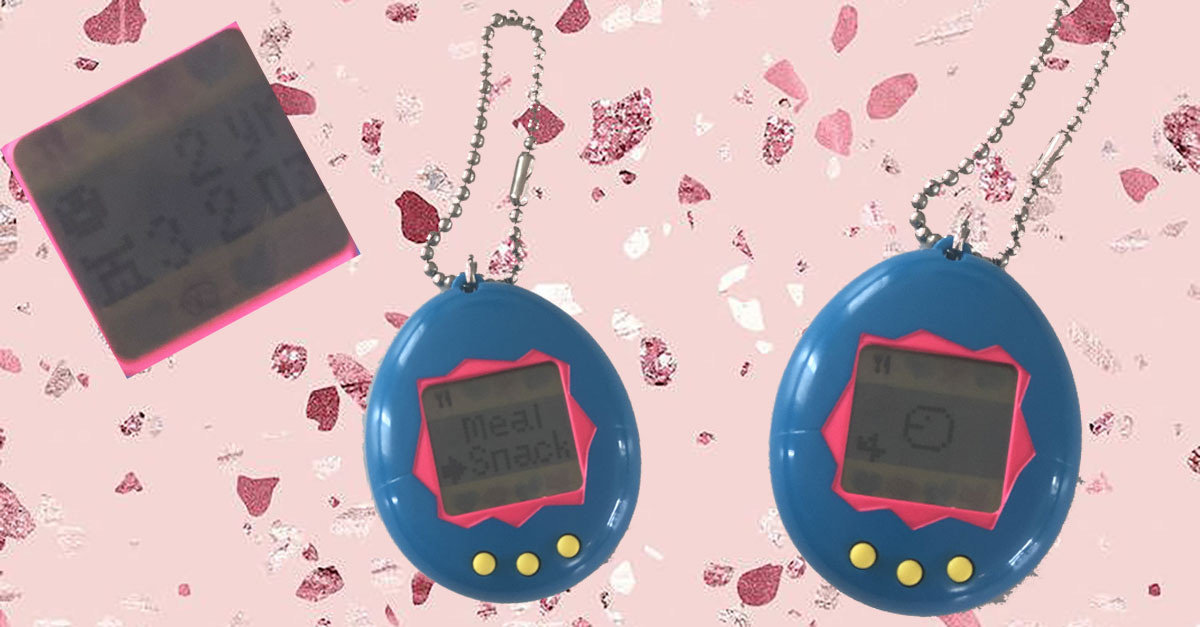 9:00 am
Tamagotchi wakes up for the day. I'm surprised by how late it sleeps, and am jealous of its ability to sleep until 9am. I can't remember the last time I slept until 9! 
3-year-old is very excited that Tamagotchi is awake and is eager to feed "the pet." I have a feeling we might need to get her a real pet soon. 
11:30 am
Tamagotchi poops and wants to play. It's getting heavier (according to its stats), and I'm trying to remember the evolution schedule. 
2:00 pm
Tamagotchi is sick again! I treat it faster than last time, so hopefully it's less mad. 
4:00 pm
Hungry, play, poop. I feel like this is getting repetitive, and also feels like another thing I have to do on top of a long list of things I already have to do — what was so fun about this when we were kids?
6:00 pm
Tamagotchi poops and goes right to sleep. (I later discover that my 3-year-old changed the time setting on the egg, bumping it ahead 2 hours, so the Tamagotchi thinks it's really 8pm and goes to sleep early. I briefly wonder if we can use this trick on her too.) 
Day 3: Evolution! Magnificent!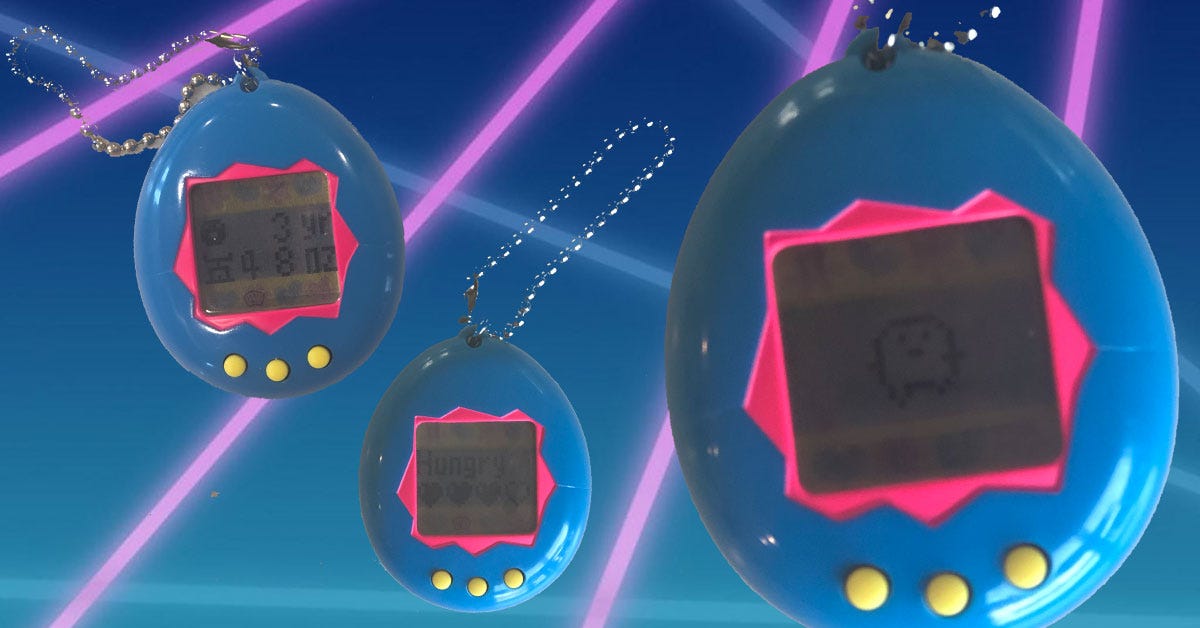 7:00 am
Tamagotchi is awake (2 hours earlier, thanks to its incorrect clock). It is hungry and ready to play. 
11:30 am
Tamagotchi is making a new noise! OMG! It's evolving! We watch it intently as the screen flashes to see which of the two "teenage" forms it will take. It morphs into the one that's arguably cuter, with little stick arms and legs. 3-year-old decides it looks like a ghost, so now she calls it "the ghost pet." 
Sidebar, can we discuss the extremely messed up detail that if you neglect the Tamagotchi, it evolves into an "uglier" creature? (The instruction manual's words, not mine!) Feels like there's an entire thinkpiece there about beauty ideals and tropes. 🤔 But I digress.
1:00 pm
"Let's check on the ghost pet!" Tamagotchi needs a meal and some playtime. 
1:30 pm
I put 3-year-old down for a nap and Tamagotchi immediately beeps at me. Kiiiinda seems like I have two children now? 
3:00 pm
Tamagotchi poops and wants to eat immediately after. OK. 
4:30 pm
3-year-old plays with Tamagotchi and gets 5/5 on the guessing game. What does she know that I don't? 
7:00 pm
Tamagotchi goes to sleep — this time in an actual bed. Good night, little buddy. Good night.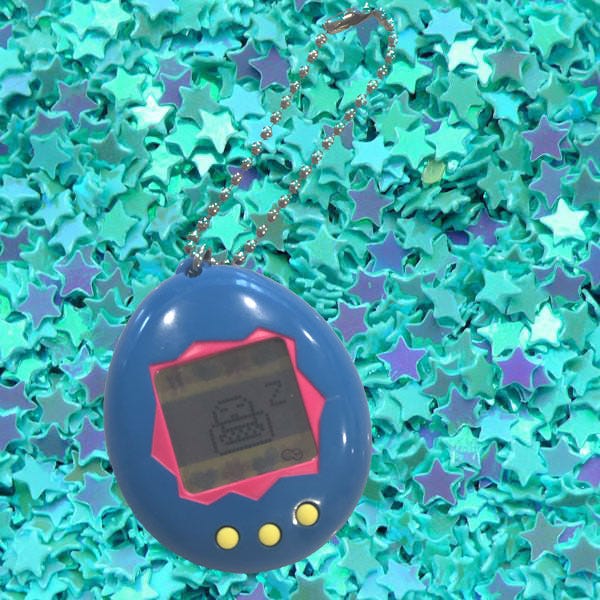 We're going to end Part 1 here, since Tamagotchi stays in this stage for a little while — it could be over a week if I remember correctly. But I'll definitely update you all with its "adult" form...stay tuned for Part 2!
---
If you enjoyed this trip down memory lane straight to your childhood bedroom, subscribe to this newsletter below!
And be sure to tell your friends! The more the merrier…it's like a sleepover. XoXo
Lastly, for more '90s ~content~ come follow me on Twitter, where I am often thinking about Sweet Valley High. Like, pretty much all the time.