Signing On: An Ode to AOL Instant Messenger
Today, we're remembering everything about AIM.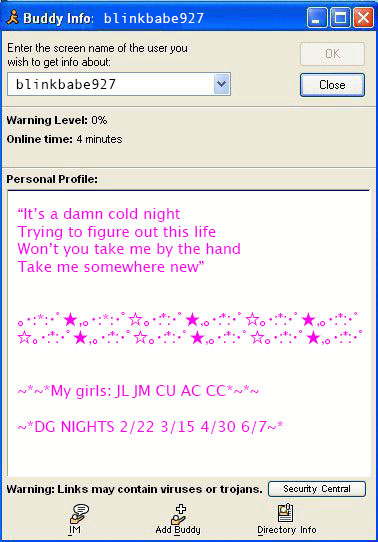 Welcome to the first issue of *Cash Register Alert*, a newsletter dedicated to all things '90s and '00s. Given that this newsletter's title was inspired by the greatest sound ever on AOL Instant Messenger, it only makes sense for our first edition to be about all things AIM. So grab your Pop Rocks and internet modem, cause it's about to get nostalgic up in here. And if you haven't yet subscribed (it's free!), hit the button below so you don't miss a single trip down the '90s and '00s rabbit hole.
AOL Instant messenger wasn't just a chat service; it was one of the main ways our generation first interacted with the online world. Between its creation in May 1997 and its demise two decades later, it became the way to communicate with friends outside of school, as well as a mode of self-expression (think: Away Messages and Buddy Profiles; I'll get to both later). Even now, the memory of coming home from school, grabbing a snack, and sitting down at the computer to sign onto AIM is as visceral as the sound of dial-up itself. Not there yet? Click the below sound and then close your eyes — the newsletter can wait.
OK now that we're all thoroughly back in the late 1990s, let's move on to some of the most memorable aspects of AIM that truly have not been replicated by any other social media app of our time. 
The Buddy List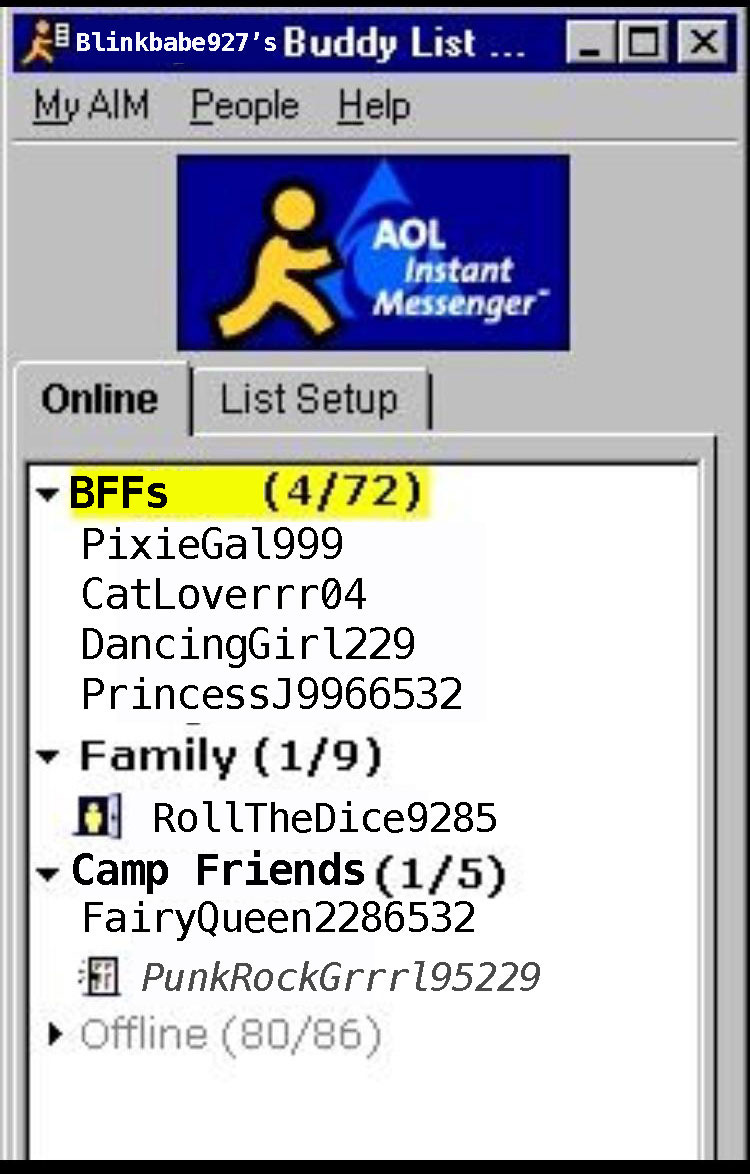 The Buddy List was essentially a directory; it allowed you to see all of your friends' usernames in one place and whether or not they were online. But it wasn't just an alphabetized collection of names; AIM let you group people into customizable categories. (I personally had a group for my best friends, another group for my camp friends, one for my theater friends, etc.) 
Beyond seeing who was online and who wasn't, the Buddy List detailed if a user had an away message up or if they were idle — meaning, they hadn't touched their computer in a while. Some people would stay idle for days if they left their computer on while at school, which became a "cool" thing to do in high school (mostly just signaling that you had your own computer in your room — a status symbol at the time, no doubt).
The "so-and-so is no longer idle" factor was helpful when you wanted to get in touch with a friend, but was straight-up maddening when you were hoping for an IM from your crush. Are they really back at their computer, or did their little sibling just nudge the mouse?! Agony.
---
The Buddy Profile
Before Facebook profiles, before the Instagram grid, there was...the Buddy Profile.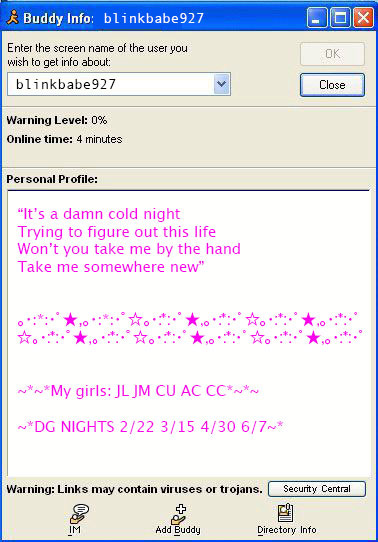 Probably intended as an "about me" space, the Buddy Profile became a spot where we crafted our own online personas. For many of us, it was the first time we ever had an internet avatar, a slightly different (slightly better) version of our IRL selves. 
There were so many decisions that had to go into a Buddy Profile. Which font do I use? (For me, it was often Lucida Bright or Calisto MT, size 10.) What color background and text? (White background, pink text.) Some people filled their profiles with song lyrics, others put in movie quotes. And then, of course, there was the matter of the initials at the bottom. 
If you were in a relationship, that part was easy — you simply wrote in the initials of the person you were dating, along with the date you started officially "going out." If you were single, the bottom portion of your Buddy Profile probably contained the initials of your best friends, along with significant dates in your friendship (mine always featured the dates of our recent sleepovers for some reason). The Buddy Profile initials was the original MySpace Top 8 — when you were featured at the bottom of someone's profile, you were best friends for life. 
---
Screen Names & Away Messages
Of course, choosing a screen name was no easy feat. How do you convey your entire personality in just one or two words with a few numbers thrown on the end? My screenname for much of high school was BlinkBabe927 (and was later changed again and again). Every aspect of my screen name was deliberately chosen for its own reason: I loved Blink-182, I believed myself to be a babe (duh), and 92.7 was my favorite alt rock radio station. 
I asked a few of my friends about some of their earliest screen names, and I got a bunch of hilarious responses: XoSnowAngel518 (a classic), Agent9506 (a Matrix reference), avoidyardsales (random, I love it), Karfreek13 (a work of art), DVDarkSide (Star Wars 4E), CatLoverrrr04 (meee-yow), XxSkater612BoyxX (probably the winner, let's be honest).
But the piece de resistance of AIM, the crème de la crème, was undoubtedly THE AWAY MESSAGE. An Away Message said so much more than "I'm not sitting at my computer right now." It conveyed your mood. Your emotional state. It was the subtweet of the '90s, a textual thirst trap, and page out of your personal diary all at once. The concept belongs in a museum, entire history books could be written.
There were Away Messages with song lyrics…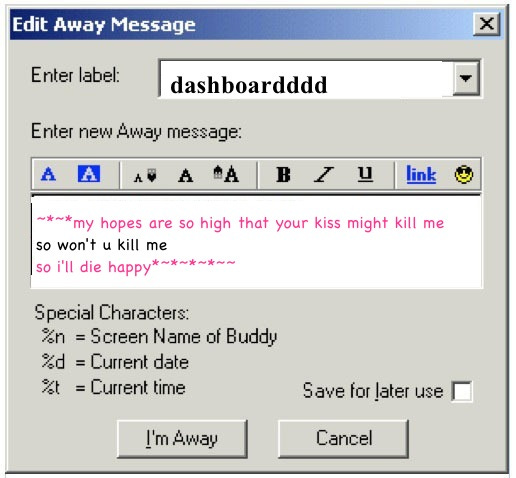 Away Messages to announce a girls' night…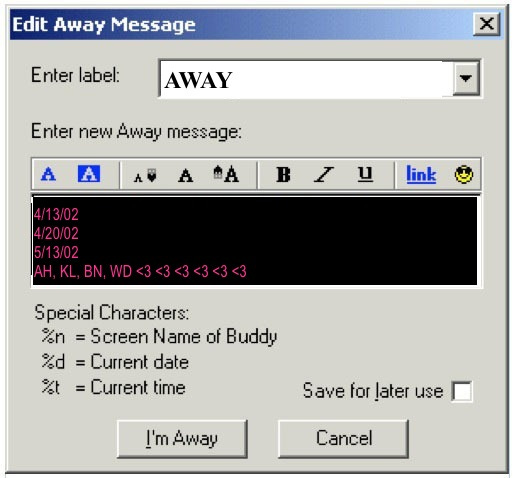 And, of course, the all-time Away Message to get your crush's attention…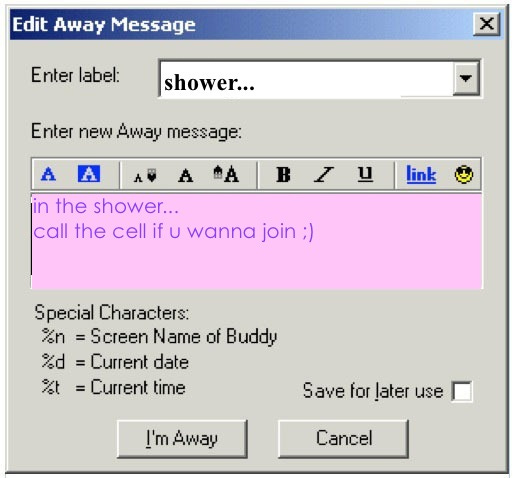 But maybe…the best part of AIM was that you could log off.
Perhaps the most notable difference between social media today and the height of AIM in the '90s and '00s is that there was a distinct separation between online and IRL. If you weren't at home, seated at your colorful iMac or clunky Gateway computer, you couldn't go online. AIM was a place you visited, a tool you used, and then you put it away to join the real world. You logged on, you stayed a while, you logged off.
Today, there is no logging off. You're always on, your Buddy List is always full; no one is idle. Perhaps what we miss most isn't the colorful fonts or sounds, or the group chats and the drama, but just the simplicity of having a place online to come and go as we please — and the ability to simply decide when we wanted to be Away.
---
If you enjoyed this trip down memory lane straight to your childhood bedroom, subscribe to this newsletter below!
And be sure to tell your friends! The more the merrier…it's like a sleepover. XoXo