I Can Still Smell the Fresh Paint
Inside the local Staples store at back-to-school time.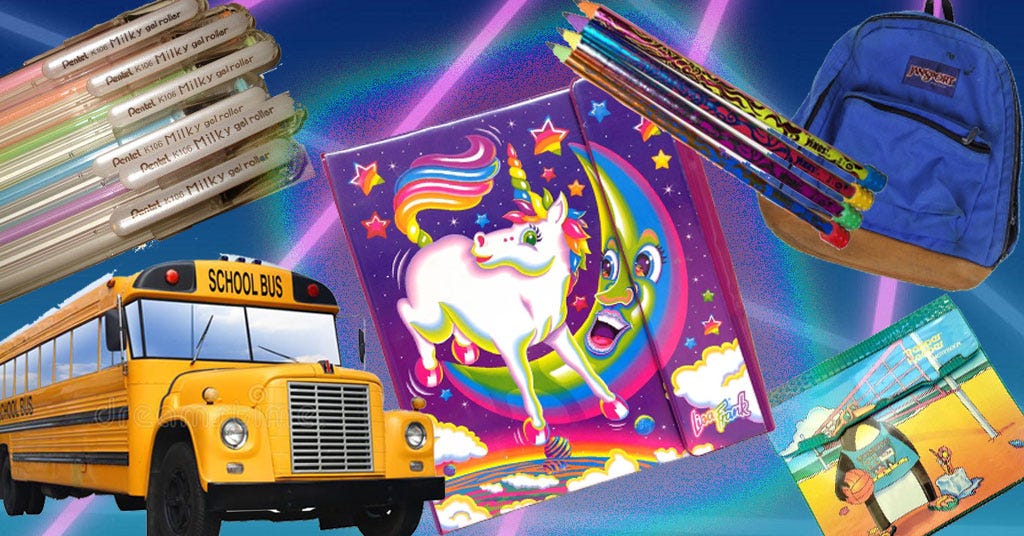 Welcome back to *Cash Register Alert*, the newsletter about all things '90s and '00s nostalgia, named after the best sound on AOL Instant Messenger. Today we're talking all things back-to-school, so grab your Trapper Keepers and Milky Pens…last one to the bus stop is a rotten Dunkaroo. And if you haven't yet subscribed (it's free!), hit the button below so you don't miss a single trip down the '90s and '00s rabbit hole.
As this summer comes to an end (and I use the phrase "summer" loosely because honestly what even was this summer? Isn't it still March? What is time anyway?), it's clear that back-to-school looks preeeettttyyyyy different this year. For one, the hottest accessory isn't jewelry or the coolest backpack (welp, it's face masks), and plenty of students are taking classes online instead of IRL. 
But this isn't a pandemic newsletter; in fact, it's pretty much the polar opposite, and I hope it's helping some of you escape Life in the Time of Corona. (It sure is helping me to be writing it.) So let's talk about some of the greatest joys of back-to-school time in the '90s, starting with the supplies.
I can still smell the fresh paint...inside the local Staples store.
Before heading back to school, it was essential to stock your Jansport backpack with everything on your teacher's list...and then some. Trapper Keepers, Lisa Frank folders, Yikes Pencils, those fruit-shaped erasers, Mr. Sketch markers — those were the hallmarks of any decent elementary school supply haul. 
As time went on, the quintessential back-to-school shop changed slightly. Yikes Pencils were replaced with Milky Pens (or those poofy feather pens, à la Clueless). We bought brand-new locks for our lockers (the inside of mine were always decorated with ripped out pages from Tiger Beat nestled between polaroids of my best friends), and Five-Star notebooks to hold all of our copious note-taking (or, you know, extra paper for folded up notes to be passed in the hall). 
There was also the pressure of finding the perfect back-to-school outfit. In middle school, everyone was carrying those tiny little black handbags (the fancy version was Kate Spade, but most of my friends and I had knockoffs from Macy's or Deb), with our feet clad in black platform sandals. And there was always the quest to get the biggest flared jeans possible — the more they covered said sandals, the better.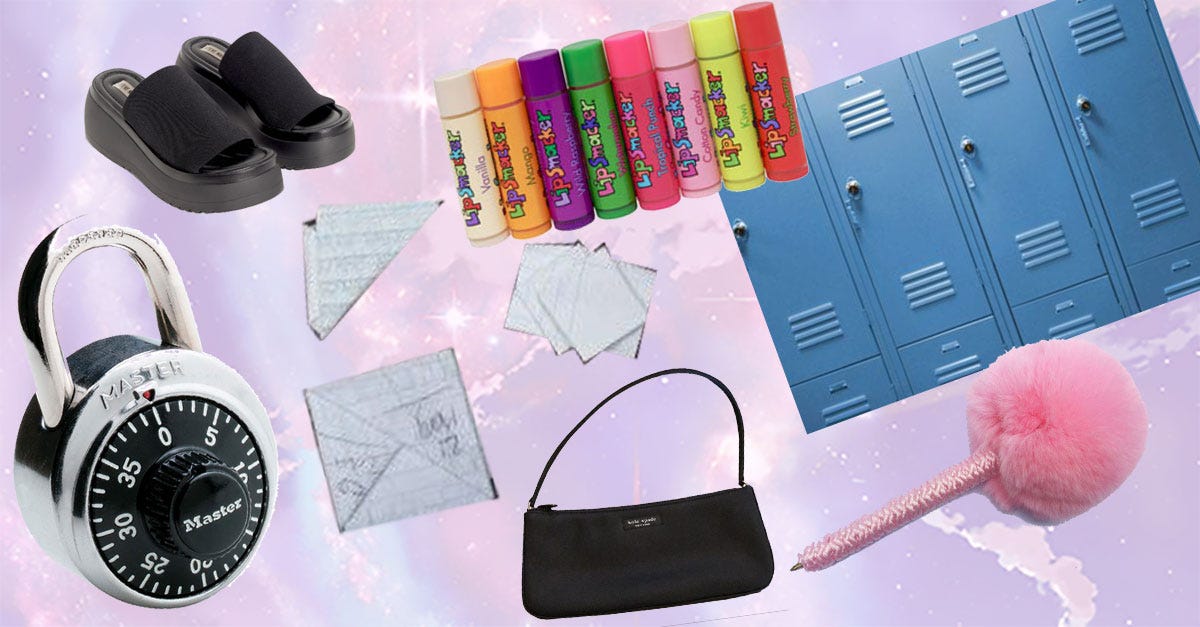 "What homeroom are you in?!?!"
In the pre-internet era, we had to wait...and wait...and wait to find out our class schedules by mail. The second that piece of paper arrived, my friends and I would call each other on the phone (or create a group chat on AIM) to compare homerooms, lunch periods, and gym classes. Real talk: there was no worse feeling than realizing that none of your friends shared your lunch or gym period, and both happened to me during my freshman year of high school. I'm still recovering.
Close your eyes. Imagine the scent of the Scholastic Book Fair
. 
Back-to-school time and the Scholastic Book Fair will be forever linked. The smell of the paper-thin catalogue...the tables full of brand-new Goosebumps books awaiting your eyes...the fresh school supplies for purchase...what a time. In retrospect, the excitement was probably more about having a break from class with your friends than anything else — but it was also about feeling a little grown up, and shopping on your own without an adult. And also, I mean, the SMELL.
But nothing could truly top the infinite potential of a new school year.
When we lived our lives inside the constraints of an academic calendar, September always came with the relief of a fresh start. A new school year wasn't just about new teachers, new classes, and new topics to learn, but also a series of opportunities: new friends, new relationships, and new things to discover about ourselves. And that was actually the best thing about the back-to-school era — not the annual Staples run, or the wardrobe refresh, but the idea that this year would be special, with an entire 180-day story ahead. 
Page one, chapter one. It was entirely up to you to write your story…and you had a box full of Milky Pens to get started.
---
If you enjoyed this trip down memory lane straight to your childhood bedroom, subscribe to this newsletter below!
And be sure to tell your friends! The more the merrier…it's like a sleepover. XoXo
Lastly, for more of my writing (albeit, less '90s and more random musings and overthinking), feel free to follow me on Instagram @WordsByDe.