Anything Could Happen at a Middle School Dance
Grab your favorite choker necklace and meet me in the school gym at 8.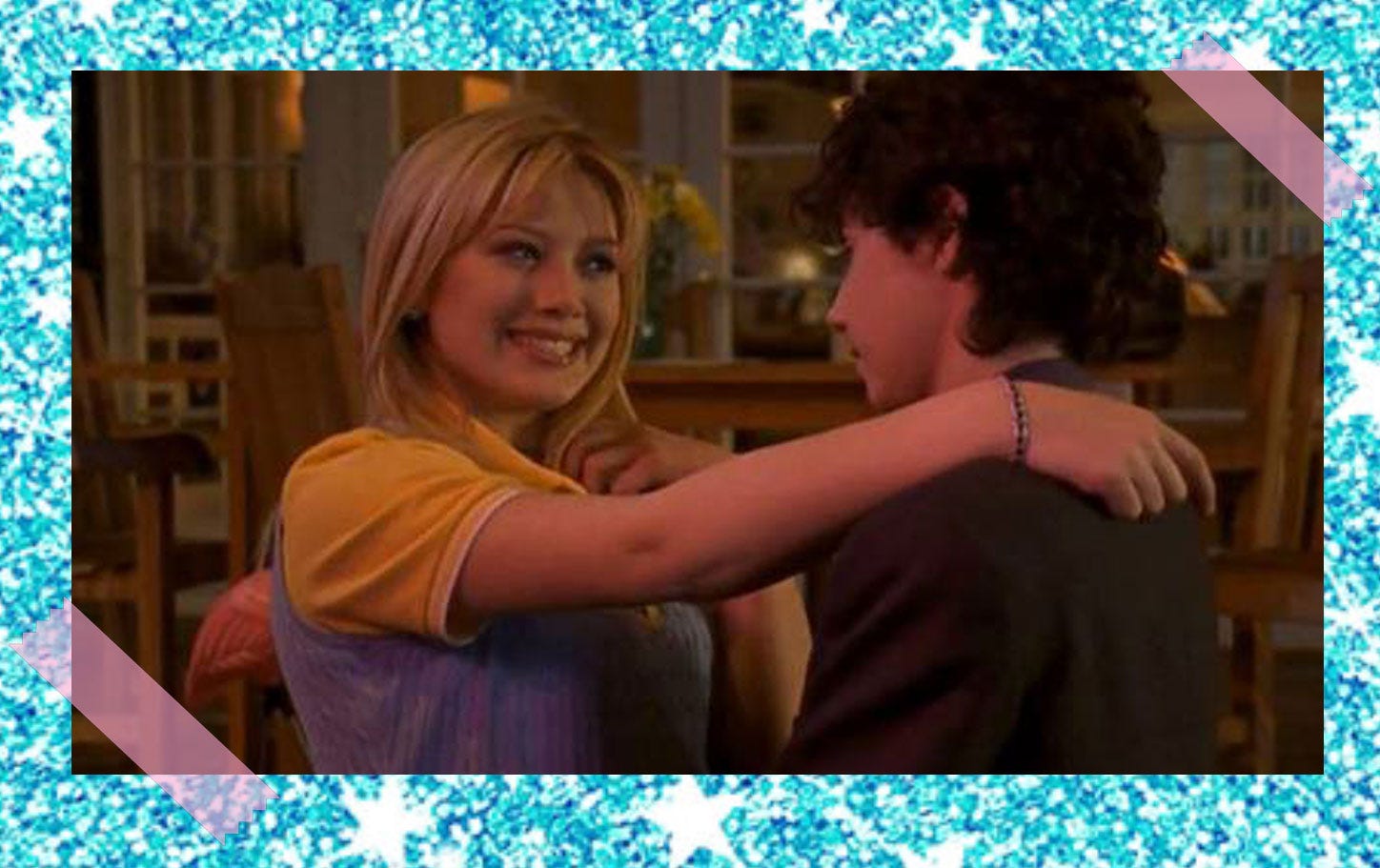 Welcome back to *Cash Register Alert*, the newsletter about all things '90s and '00s nostalgia, named after the best sound on AIM. Today, we're going straight to your old middle school gymnasium; the lights are dimmed, streamers are everywhere, and a lone disco ball turns as *NSYNC blares from the speakers. Pull on your platform sandals and get ready to cry in the bathroom with your friends — it's time to revisit those iconic middle school dances. And if you haven't yet subscribed (it's free!), hit the button below so you don't miss a single trip down the '90s and '00s rabbit hole.
If you were in middle school during the late '90s or early 2000s, you know that dances were more than just regular fixtures to the academic calendar, they were Events with a capital E. It wasn't so much about the music or the "special" decor as it was the experience: the feeling of dancing with your friends, singing along to your favorite songs all together, and, of course, the drama. So much drama. 
Of course, the magic of a middle school dance didn't start when you walked through those double doors of your gym — getting ready was half the fun. 
Before the Dance: The Anticipation
I don't know about every millennial out there, but my friends and I spent days (sometimes honestly weeks) talking about dances before they happened. Maybe it was because middle school was the first time we ever attended school dances, or maybe it was just the very human nature to be drawn to possibility — honestly, who knows. But we'd chatter endlessly leading up to the big day, covering all topics including who we hoped to slow dance with (more on this later), what song would be "the last song," and, most importantly, what we planned to wear.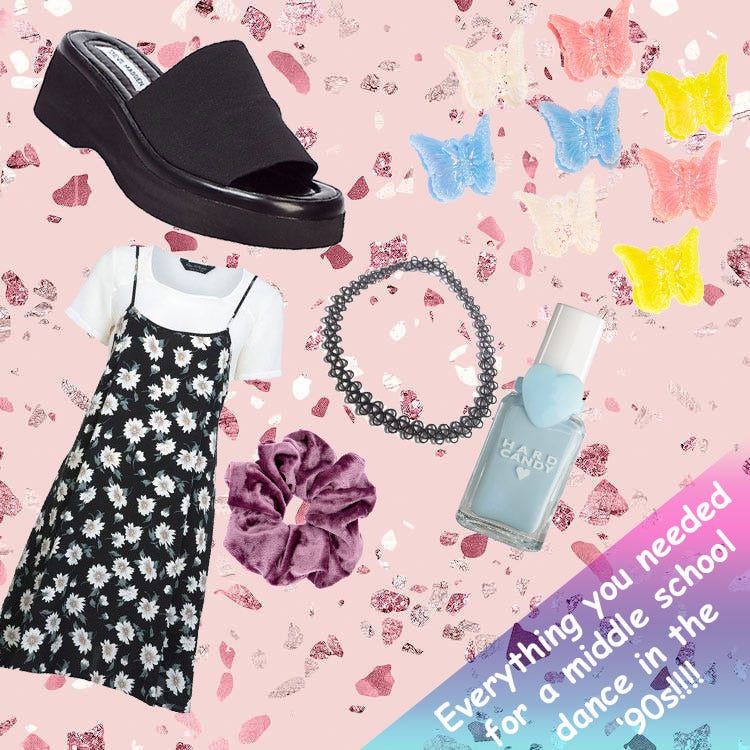 When I asked a few friends what they remember wearing to middle school dances, they responded with some truly iconic '90s gems: choker necklaces, Doc Martens, cargo shorts, oversized dress shirts, tie dye halters, and, of course, scrunchies. I personally gravitated towards the ribbed tank top + wide-leg jeans look, paired with butterfly clips and platform sandals — you know, basically an entire page out of the dELIA*s catalogue.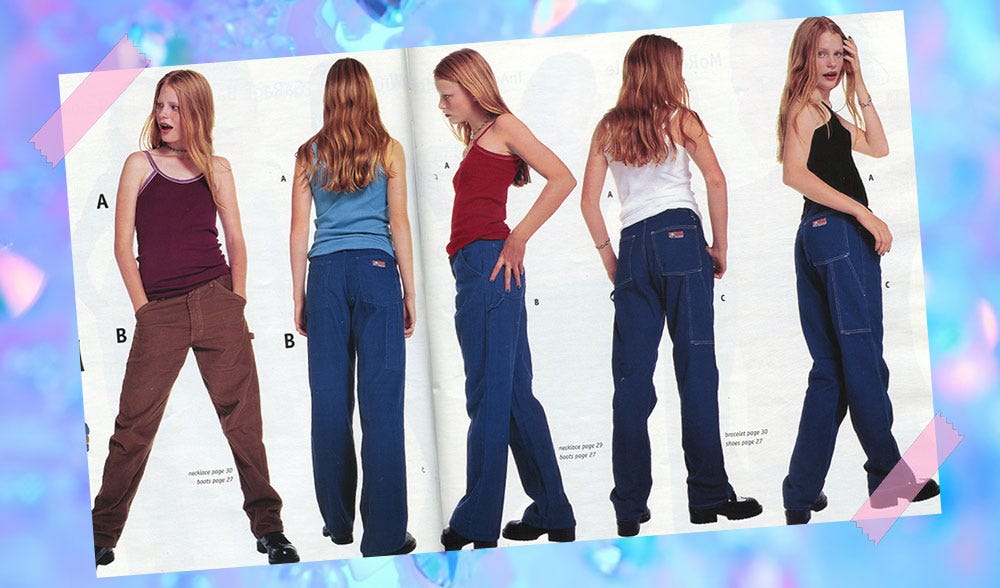 Catalogue Photo: Courtesy DeliasCatalogs.Tumblr
Not all of us had cell phones in middle school, so we often planned out meeting points throughout the night in case we got separated during the dance. My friends and I would typically carpool together (with one of our parents dropping us off), making sure not to arrive too early or too late. In retrospect — *extremely Carrie Bradshaw voice* — I couldn't help but wonder, who are the first people to arrive at a school dance? Every time my friends and I got there, it would seemingly be in full swing. A mystery.
At the Dance: The Drama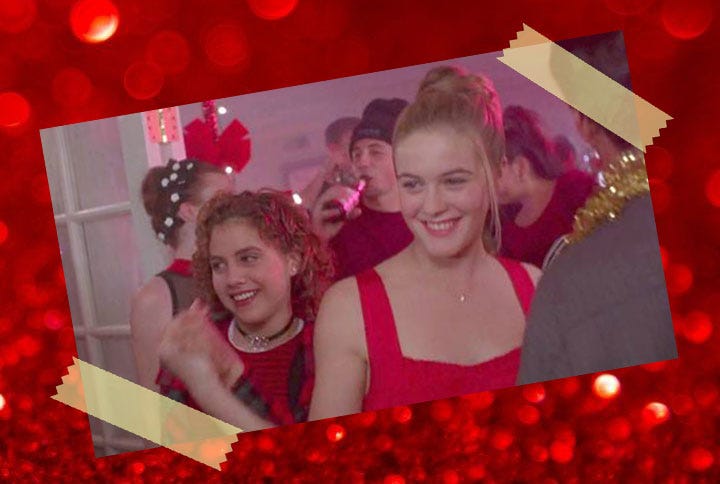 In Clueless, Cher tells Tai "let's do a lap before we commit to a location," which became a hard rule for the first few moments after arriving. It was always a good idea to circle the gym to see who was already there, and sometimes more importantly, who wasn't.
From there, it seemed as though there were two options: explore other areas (namely, the cafeteria for snacks) or form a circle with your clique and bust out some moves. My friends often chose the latter, especially if there was a good song playing. 
Speaking of songs. What would a middle school dance nostalgia trip be without a soundtrack? In order to truly create the perfect ambiance, I asked some of my friends what they remember rocking out to on the dance floor...and I also consulted my 7th grade journal. There, I found a list of "Songs With Meaning" (really, that is what I titled it at the time), including but not limited to: Savage Garden's "Truly Madly Deeply," "Bitch" by Meredith Brooks, and, naturally, plenty of *NSYNC and Backstreet Boys. P.S. I also made 50-song, 3-hour playlist of '90s and '00s perfection so you can recreate the middle school dance of your dreams in your living room. You're welcome.
Of course, where there are songs, there are slow songs, and therein lies the most dramatic question following any middle school dance: Did you slow dance with someone, and who was it?! Personally, I had my first slow dance in 7th grade to a Mariah Carey song...and guess what? There's a diary entry all about that too…and I'm going to share this one for the LOLs. You're double welcome.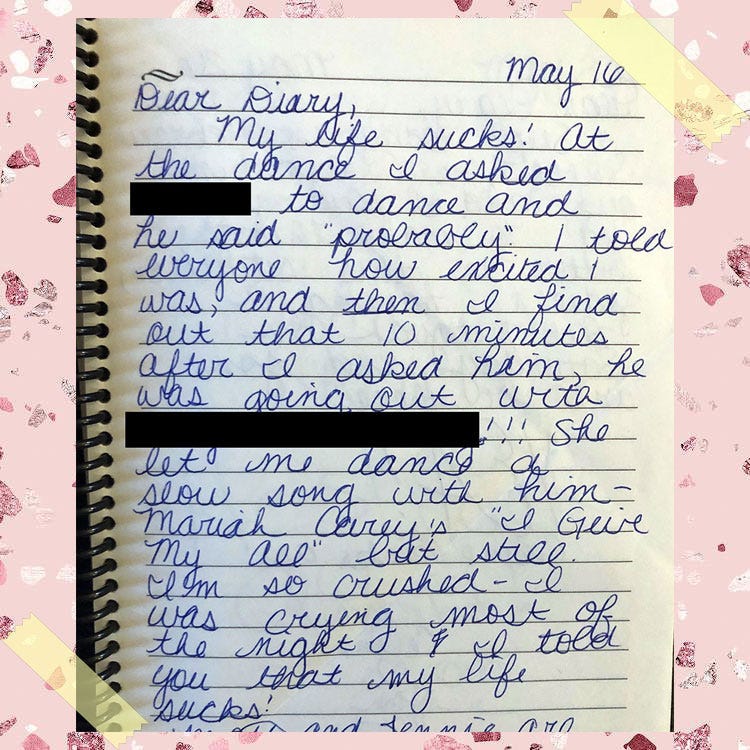 Whew, there's a lot to unpack there ("'Probably?'" "She let me dance with him?") but I'll skip right over to the more important issue: the life lessons you learn from crying in the bathroom with friends. As seen above, slow dances and dating drama often led to a bathroom tear-fest — a ritual for any attendee. Given how many times I have cried in bathrooms in college (and, not gonna lie, as a fully-fledged adult), I feel like these instances in 7th and 8th grade just served as good practice. Ultimately, it was a reminder that crying is OK (it really is!) and your BFFs will always, always have your back. 
After the Dance: The Memories
A post-dance sleepover was the ritual for myself and many others, where we rehashed all of the events from the night. Who had a slow dance? Who got into a fight? Who cried all their mascara off? Who broke up? Who's officially together? It was like a bingo game, and sometimes our score cards were full.
And yet, as more years pass between those middle school days and now, a lot of those details have faded. They remain documented, of course, in all their dramatic glory in diary entries and folded-up notes passed in the hallways. But the real memories that linger, the ones that seem to matter, are the moments that involved my friends. The times we threw our arms around each other and belted the lyrics to our favorite songs, busting out dance moves that were probably silly to the onlooker but we couldn't care less. The times we laughed so hard until we couldn't breathe, solidifying inside jokes that would last for decades, that would pop up in text messages in our 20s and 30s, despite us not being in the same room for years. The times we simply slow-danced with each other, standing in a circle and swaying, proving once and for all that crushes — especially ones who say "probably" when you ask them to dance — might come and go, but friends are for life.
---
If you enjoyed this trip down memory lane straight to your childhood bedroom, subscribe to this newsletter below!
And be sure to tell your friends! The more the merrier…it's like a sleepover. XoXo